The capital city of Wales is a fascinating place to explore by foot, with incredible history and culture to discover. On the doorstep of your holiday cottage in Cardiff, the city centre is packed with many of the country's best places to eat and drink and an exceptional variety of independent shops to peruse. Wandering through the ancient streets, you will notice the magnificent architecture, such as the castle, which is located right in the city centre, with extravagantly restored interiors. Next to Cathays Park, the city's museum houses remarkable collections of natural history and art. Look out for the woolly mammoth and the dinosaur skeletons. Self-catering holidays in Cardiff would be incomplete without visiting the Millennium Centre, one of the city's newer landmarks, with loads of events and exhibitions on offer. Castell Goch is another must-see, a fairytale-like castle just outside the city centre. The countryside surrounding the city is spectacular, with many footpaths to explore, including the Taff Trail, which leads into the wild scenery of the Brecon Beacons National Park.
Recommended Places to Visit When Staying in Cardiff Holiday Cottages
Cardiff Museum Don't miss the fascinating exhibits in this informative museum, housed in a historic library building.
Cardiff Bay Barrage Visit the city's modern harbour barrier, with locks, playgrounds, picnic areas, and far-reaching views across the bay.
Welsh Hawking Centre In the countryside to the west of Cardiff, discover 200 birds of prey, including eagles, owls, hawks and vultures.
Bridgend Miniature Railway Take a ride through four acres of woodland by the Parc Slip nature reserve before treating yourself to a refreshment at the café.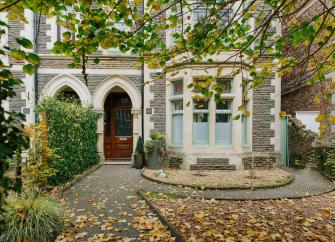 Ascension is a superbly ornate romantic suite inside a Victorian villa, situated in the heart of Cardiff. The décor includes antiques, elegant décor and international souvenirs, and the grand four-poster bed hints at royalty. A bay window captures the view and plush leather sofas invite relaxation.